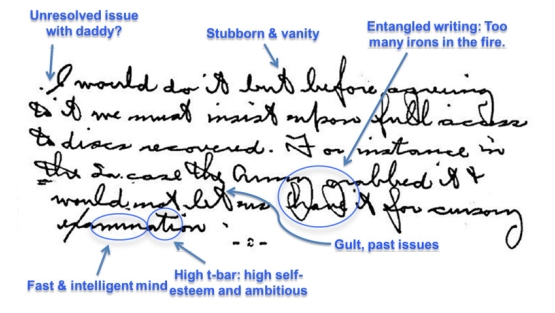 Brilliant Forensic Investigation Pvt. Ltd. provides forensic services, graphology services and a view to analyse personality traits by analysing handwritings of an individual. A trained forensic graphologist (handwriting analyst) is capable of handwriting analysis, signature analysis or any other handwritten script like suicidal notes/letters, ransom notes, blackmailing letters, threatening notes etc for the purpose of analysing personality, behaviour and mentality assessment of an individual. 
Handwriting analysis (graphology) is the one and only way to gain insight about the physical, mental and emotional state of mind of a writer. Our mouth, hands or feet does not decide, which way we will slant our handwriting or how small or big we will write and at what extent, but whatever the style that we adopt in our handwriting, it comes directly from our brain. This is why handwriting can also be termed as brain writing. A graphologist observes the letter formation and strokes in an individual's handwriting by using a magnifying lens or microscopic techniques. 
Our well-experienced team of forensic graphologists studies about all types of graphic movements within an individual's handwriting and they are capable of analysing physiological and psychological functions within that individual. 
We provide forensic graphology services which include:
·        Self-personality assessment
·        Exploring personality of different individuals
·        Behaviour and personality assessment of the corporates in the office
·        Knowing the thought process of a child
·        Knowing the professional as well as future prospective of an individual
·        To prove whether a will has been maliciously altered
·        To provide testimony in court regarding handwriting cases
·        To ascertain whether a person has intentionally disguised his/her own handwriting to hide his/her genuine personality 
Graphology Workshops etc.
One very famous case where handwriting analysis helped in understanding and knowing more about a serial killer is zodiac killer.