LIE DETECTOR TEST (POLYGRAPH TEST) in Delhi/NCR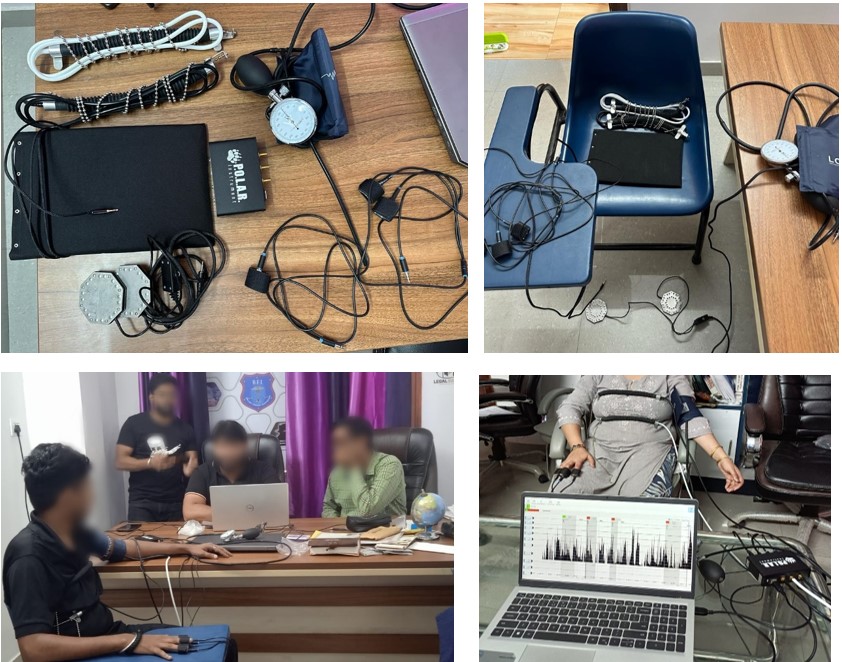 A lie detector test, scientifically known as a polygraph test, is a tool used to measure physiological responses in an individual while they answer a series of questions. The underlying assumption is that lying is associated with certain physiological changes, and the test aims to detect these changes. Here are some key points to understand about lie detector tests:
A typical polygraph machine measures several physiological responses, including changes in 
Heart Rate,
Blood Pressure,
Respiration, and 
Skin conductivity.
During the test, a trained examiner asks a series of questions, typically categorized into relevant, irrelevant, and control questions.
Relevant questions are directly related to the issue being investigated (e.g., a crime).
Irrelevant questions are unrelated and serve as a baseline.
Control questions are meant to elicit a physiological response in all individuals, allowing for a comparison.
The polygraph measures changes in these physiological indicators, with the assumption that deceptive answers will produce noticeable variations.
Accuracy and Controversies:
The accuracy of polygraph tests is a subject of debate. Some studies suggest they can be reasonably accurate, while others question their reliability.
Controversies surround the use of polygraphs, and their results are not always admissible in court.
Lie detector tests are used in various settings, including
Relationship And Fidelity Issues

Pre-employment Tests

Screening of Employees

Defence Lawyers

Detecting Thefts & Stealing in Workplaces / Houses,

Detecting Financial Frauds, Bungling, Pilferage,

Spouse infidelity / Character Checks,

Recruitment Screening,

Conspiracy by Trusted Persons,

Identify Addictions / Vices among Children,

Any other cases where Truth is to be found out
Legal and Ethical Considerations:
The use of lie detector tests is subject to legal and ethical considerations, and their use varies by jurisdiction and purpose.
It's essential to recognize that while polygraph tests can provide insights, they are not infallible, and their results should be interpreted cautiously. Legal and ethical guidelines often govern their use to prevent potential misuse.
If you have specific questions or want to dive deeper into any aspect of lie detector tests, feel free to ask.
CONTACT US:- 9990292279
EMAIL ID:- ceo.bfi@gmail.com